Reading Time:
6
minutes
I'm about to help you improve your own resume. But first, let me ask you this question: What is the most fatal resume mistake? The answer is quite simple, but easy to overlook: to think of it as a listicle of your past career roles and responsibilities.
"I'm an experienced professional – here are the places I've worked in. Here's what I've been doing".
A resume like that puts a bullet in the head of your career. And yet, 90% of resumes out there adhere to that philosophy. If yours does, too – don't worry; it means you have a lot of room for improvement.
What Your Resume Is Not.
Your resume is not a synopsis of your employment history.
It's a targeted marketing document which positions you as the obvious answer to an employer's problem.
It's also a showcase of your achievements, presented in the form of a strong, commercially relevant value proposition and held together by a compelling story.
(If you didn't know this, don't worry – it's a mistake which catches many professionals off-guard).
Let's Improve The Resume Of Jessica Pearson.
If you're a fan of Suits, you know that Jessica Pearson is the quintessential executive.
Decisive, persuasive and thick-skinned – but not without a human, empathetic and vulnerable side.

You also know that she recently left her position as the Managing Partner of
Pearson Specter Litt
.
Predictably, if Jessica was a real person, she would probably be looking to land her next gig. Less predictably, it's also likely that, despite her formidable experience, she would be getting overlooked by some top-tier employers.
Why?
You guessed it – because her resume is just a listicle of her previous roles.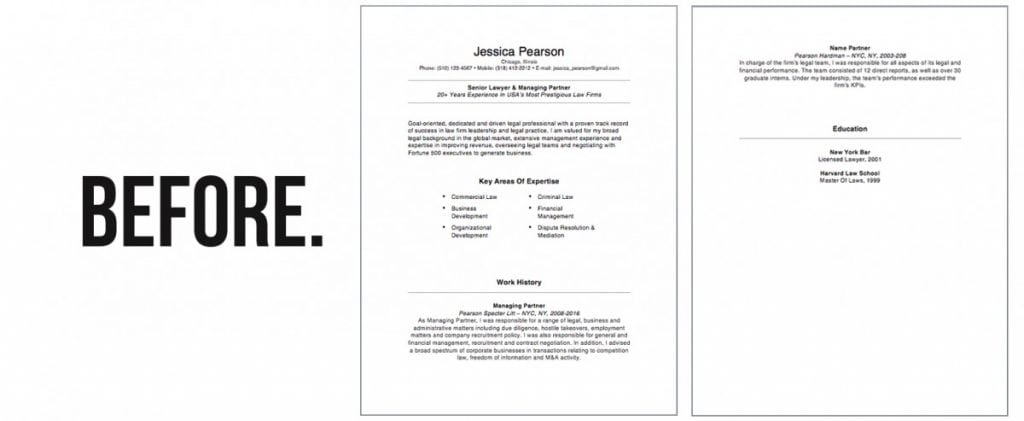 Is Your Resume Working Against You?
Let's use Jessica Pearson's situation to illustrate how to improve your resume, so that employers sit up and take notice.
We'll do a hypothetical resume rebuild for Jessica to help you identify problems on your own resume.
Keep in mind that what you're about to witness is NOT a full Arielle Executive-powered resume rebuild.
The resume makeover in this blog post contains about 40% of the features and improvements which we build into resumes of clients who purchase our resume writing service.
Nonetheless, it's quite eye-opening – and also entertaining (I hope).
How To Improve Your Resume: Step 1.
Top Section.
Jessica's resume sported a typical run-of-the-mill top section.
You'll see a version of it on 90% of resumes out there. It points out her profession and provides some insight into what makes her effective: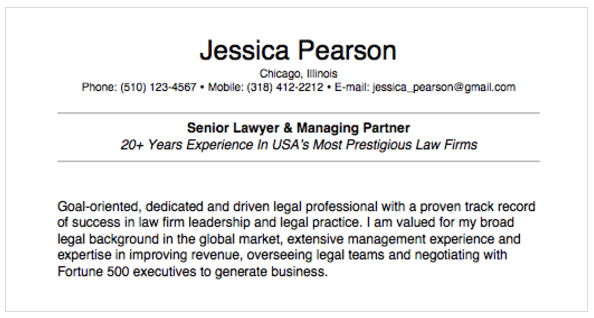 It doesn't capture her unique value proposition and pitches her using language which makes her sound less senior than she really is.
Let's see how our team at Arielle Executive would get this across (with some humour thrown in for good measure):


First, by expanding the headline under Jessica's name, we've demonstrated her profession and value proposition in one powerful statement.
The next step in this resume makeover was to create a profile which:
Demonstrates Jessica's credibility in solving core organisational problems
Positions her at the right level of seniority.
Communicates her Unique Selling Proposition (USP).
Conveys personality.
Uses crisp, punchy language.
Is not propped up by hollow cliches.
Finally, we completed the makeover of this resume's top section by neatening up Jessica's contact details, making sure that her online assets are visible and adding a splash of colour.
A resume must look professional, but it must not look dreary.
How To Improve Your Resume: Step 2.
Professional Experience.
Prior to Jessica's resume makeover the black and white colour theme continued throughout this section, as did the very generic design .. or lack of it.
While simple may be smart when it comes to resume design, it's important to use a structure that is going to make important details prominent.
It's also a good idea to avoid long paragraphs of text on your resume. They intimidate the reader, instead of drawing them in: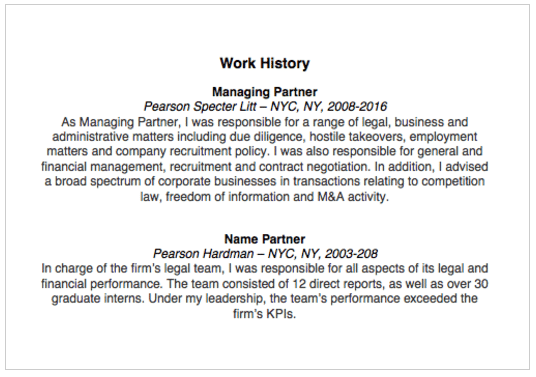 Prior to the makeover, Jessica's resume was essentially a list of her previous roles.
Even if a hiring manager did take the time to read the descriptions, he/she will not have learned anything new – these descriptions simply rehashed everything we'd expect from a professional at Jessica's level.
In contrast, splitting out Jessica's experience into a summary and following it up with detail we encouraged recruiters to scan, engage and read on: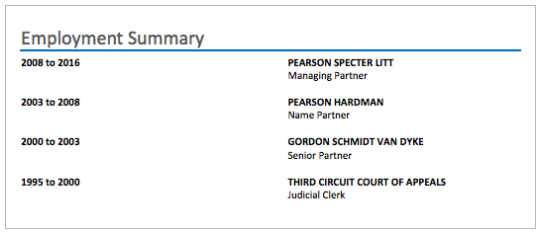 Next element of the resume makeover was to add a little creative formatting to help important details stand out. Once that was taken care of, we added the necessary detail: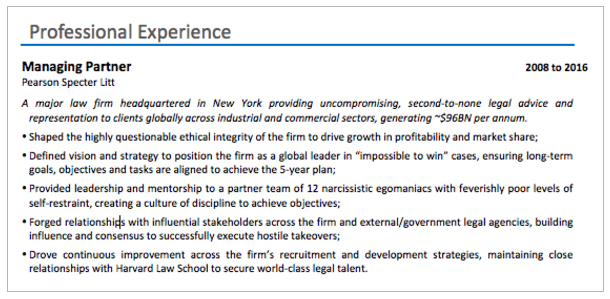 Before we continue with the resume makeover, let's examine the Professional Experience section in more detail.
When a recruiter reads through this part of your resume they're looking for one thing: competencies.
In other words, they're asking themselves –  does the candidate have the skills and relevant experience to help them solve the company's problems?
(Related: Psychometric Testing: Survival Guide For Managers & Executives).
By adding in an introductory line or two that outlines the size and nature of the company Jessica has worked for, we have provided the necessary context for her experience. It's important because it offers recruiters an insight into the culture in which she has operated.
A multibillion-dollar New York law firm is quite different to a high-street family practice!
You can see that in the opening line we've highlighted the headline of Jessica's role, the accountability (client portfolio) and mandate (drive growth in profitability and market share).
A good rule of thumb for assessing the impact of an opening line is: if a recruiter read only that line, would he/she understand what you do and how your success is measured?
One more thing needs to be mentioned here. It's critical that you use powerful action verbs on your resume (e.g. "shaped", "forged" and "drove"). Doing so adds a significant amount of impact to your core skills and experience:
Defined vision and strategy to position the firm as a global leader in "impossible to win" cases, ensuring long-term goals, objectives and tasks are aligned to achieve the 5-year plan;
It also brings strength and substance to your capability in strategic leadership:
Provided leadership and mentorship to a partner team of 12 narcissistic egomaniacs with feverishly poor levels of self-restraint, creating a culture of discipline to achieve objectives;
How To Improve Your Resume: Step 3.
Achievements.
At this point you'd expect to see an extract from Jessica's original resume detailing her achievements – but there aren't any.
This is an issue we come across time and time again. We know Jessica has some jaw-dropping achievements and by not showcasing them in her resume, she isn't:
Marketing her skills.
Highlighting the organisational/business problems she can solve.
Creating a value differentiation from others in her field.
Let's look at how we fixed this problem as part of the resume makeover:



The power in presenting achievements comes from front-loading sentences.
To understand what it means to "front-load sentences", imagine that you're a recruiter who is skim-ridding Jessica's resume – and you're paying attention only to the first few words of each achievement:
Transformed the financial performance of the firm…
Achieved a 98% success rate in corporate lawsuits…
Secured and retained best-in-class talent…
Received industry recognition as a leading law practice…
Still impactful, no?
With smart sentence structuring, you can tell time-poor recruiters everything that they need to know.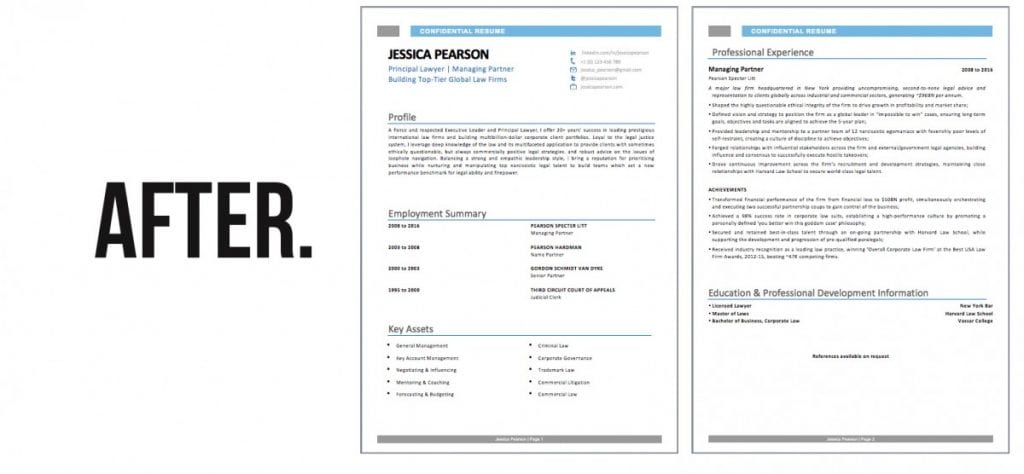 Decision Time.
This resume improvement was intended as a demonstration of simple and effective practices which have the power to alter the trajectory of your career.
So, if you were a hiring manager, which resume would make you pick up the phone and call Jessica – the one she had prior to her resume makeover, or the one she has now?
– Irene

Recommended Reading: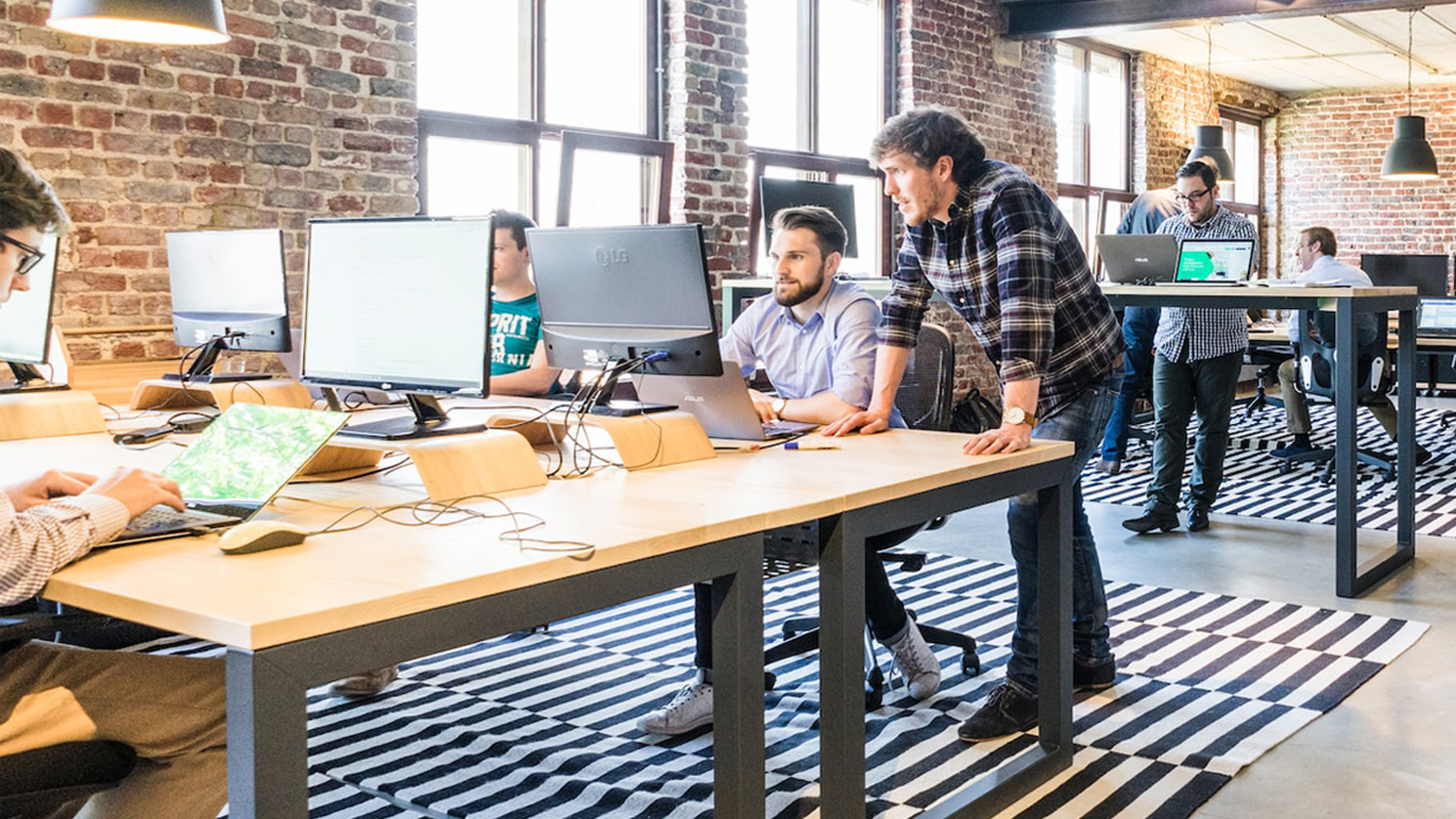 How To Become A Product Manager In Australia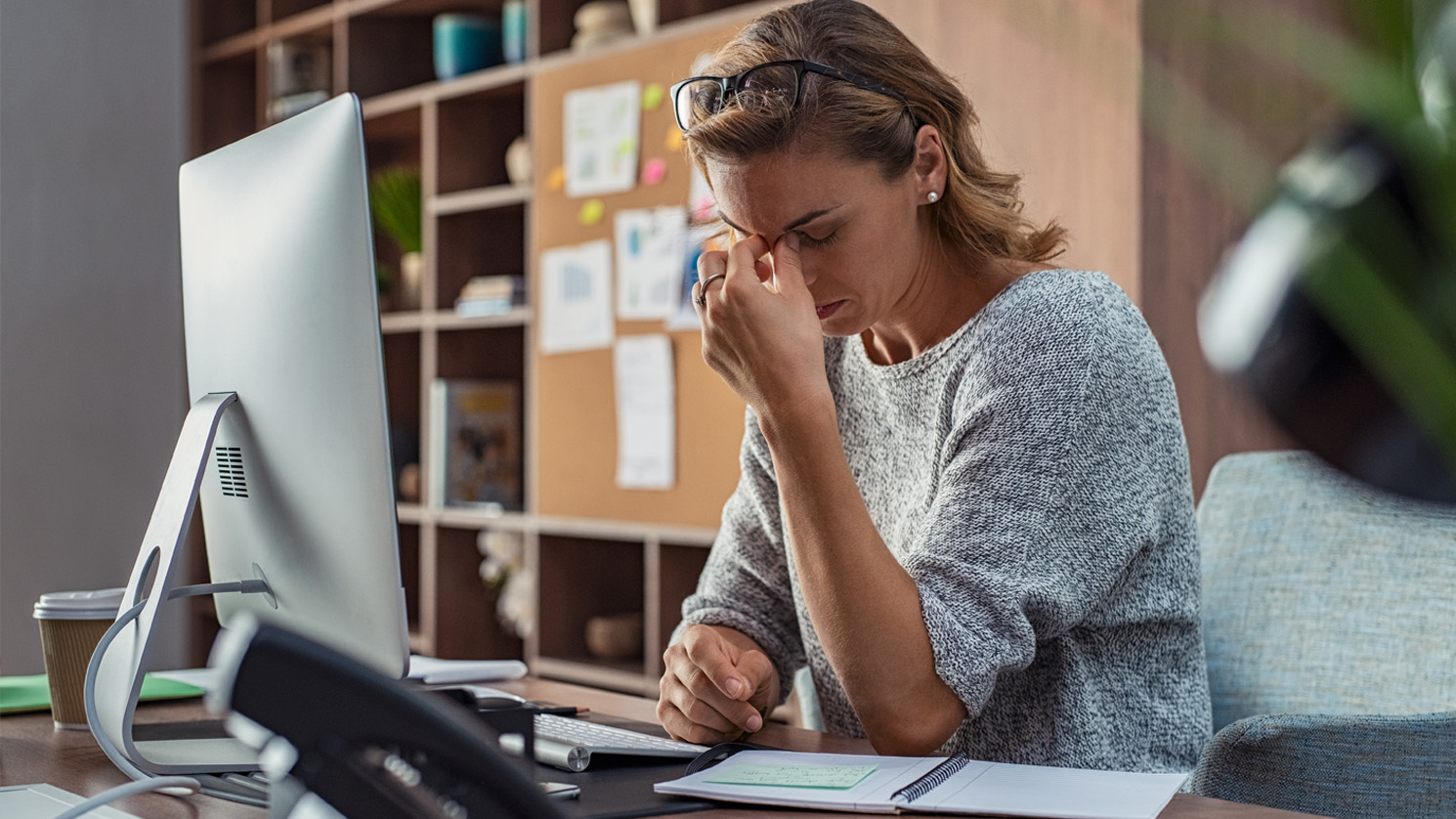 5 Signs Of Burnout At Work That You Must Recognise Early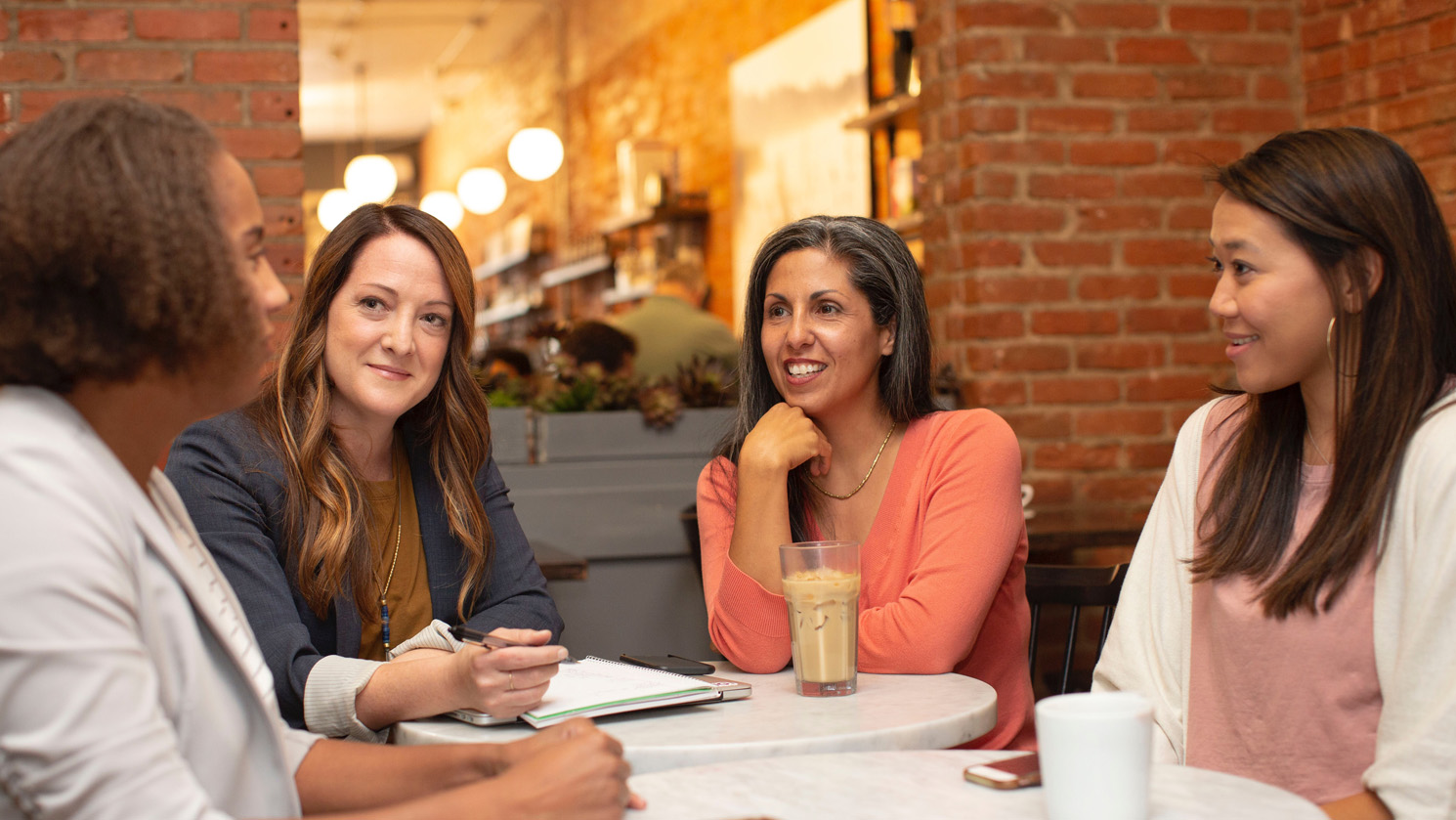 How To Build Relationships At Work With Teammates And Peers