You've decided that it's time to look for your next role. Perhaps you've outgrown your current position. Or perhaps you're coming back to work after a career break.
Either way, congratulations!
Your next task is to make sure that your resume is capable of winning the attention of recruiters and hiring managers.
Rather than writing your resume yourself, you consider hiring a professional writer.
WHERE TO FIND A RESUME WRITER?
Google, of course.
You perform a quick web search for "professional resume writers", "resume writing services" or something similar.
Next, you scan through search results and discover that a number of companies provide relatively cheap resume writing services. It seems that you can have your resume revamped by a professional for $50-100.
However, things get even cheaper when you head over to Fiverr.com.
This website has the most impressive database of cheap resume writing services, many of whom make quite lofty promises.
For example, this provider insists that you'll be hired "instantly" after your resume is written by them – for $5: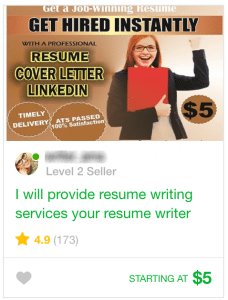 If you continue researching the resume writing services market you'll discover prices at the opposite end of the spectrum, as well.
That means prices between $500 and $1,500 for a professionally written resume.
HOW TO DECIDE?
Can you get away with using a cheap resume writing service? Or should you fork out almost 300 times as much of your hard-earned cash for a $1,500 resume?
I'll be honest with you – as someone who provides resume writing services which are priced at the top of the market, I'm not a big advocate of using cheap resume writers.
Let me share with you my main two reasons why I have reservations about them. Hopefully these will help you make a more informed decision.
PROBLEM #1: BUSINESS MODEL MISMATCH.
Most cheap resume writing services compete in the marketplace through the value discipline of operational excellence.
It means that in order to survive they need to maintain a high volume of customers, a transactional approach to sales and a high level of standardisation in their products.
Now, there's nothing wrong with pursuing operational excellence – if you're Amazon, UPS or even your local chemist. These companies are expected to be cheap, low-fuss, convenient and practical.
However, this business model would work as well for a brain surgeon – for obvious reasons. Which brings me to my first reason why you should not choose a cheap resume writing service:
Your career is more closely related to a brain than it is to a box of paracetamol.
Your job history contains unique nuances, quirks, moves and highlights.
These require the attention of a skilled, experienced and creative professional who is not watching the clock on the wall, but who is committed to building a value proposition for you which weaves your career into a cohesive story that aligns with your targeted direction in the strongest way possible.
If your career is as important to you as your brain, I suggest that a cheap resume writing service is not for you.
PROBLEM #2: DATED METHODOLOGY.
Most cheap resume writers allocate (or are allocated) approximately 25 minutes to write your resume.
This limitation doesn't leave much time for creative and strategic thinking.
As a result, they use your job history as a departure point and proceed to create something that resembles an obituary of your career.
They list your accomplishments, skills and duties. (The more skilled writers also make an effort to write standout achievements).
They finish by cleaning up the formatting of your resume to aid readability and injecting some keywords to help the resume fly under the radar of Applicant Tracking Systems.
This approach tends to position you in a way that's more junior than you are.
It effectively casts you as a lower level candidate in front of recruiters and hiring managers by merely demonstrating how you were of value to past employers.
In doing so, it fails to map your career history and use it to explain – through a persuasive narrative – how you can be of value to future employers.
This is particularly important if you're applying for roles at the senior management and executive level. To be considered for those roles, you must pitch yourself at the right level of seniority.
STAY AWAY FROM CHEAP RESUME WRITING SERVICES.
Crafting a future-focused, narrative-based, targeted resume is a process which requires a heavy dose of commercial experience and time.
Both of which can't be bought for $5. Or $50. Often not even $500 (bonus reading: How To Choose The Best Resume Writer).
To give you some context, at Arielle we typically spend 1-2 hours interviewing a client, then 1-2 hours mapping a strategic direction for his/her brand. This happens before any writing takes place.
The writing phase takes about 3-5 hours. Amendments can take another 1-2 hours.
Not every resume writing service goes to such great length, and that's OK – not everyone takes your career as seriously as we do. We perform "brain surgery" on your career and charge accordingly.
In return you receive a marketing document which facilitates your success, promotes the health of your career and exponentially amplifies your odds of securing the right role.
I suggest that you consider your resume an investment, rather than an expense – and choose a resume writer who can deliver a product that is capable of providing you with significant returns on your investment.