Reading Time:
6
minutes
You've probably arrived here because the office chair vs gaming chair debate has left you confused. What are the differences between a standard office chair and a gaming chair? Are the differences important?
Which chair is best for WFH?
I'm here to help you make the right decision.
Office Chair vs Gaming Chair: The Quick Answer.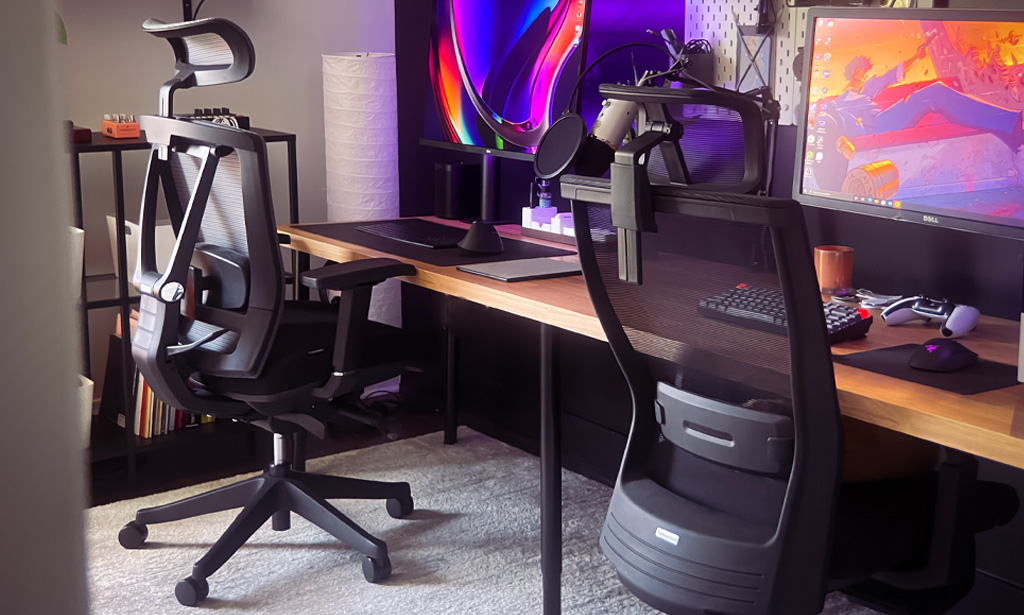 Office chairs in mid-market ($500-$1000) and high-end price segments ($1000+) provide superior levels of comfort and ergonomics by including features like:
Adjustable lumbar support
Waterfall seat edges with depth control
Breathable mesh construction
Synchro–tilt or weight-sensitive mechanisms
Gaming chairs are superior to office chairs across those dimensions at the budget end of the market (sub $500).
If your budget is limited to $500 or less, gaming chairs give you more bang for your buck – but stay away from the cheapest models as they'll fall apart quickly.
If you can stretch your budget above $500, get a good ergonomic office chair instead.
(Related: Best Shops To Buy An Office Chair In Sydney and Melbourne).
Key Differences Between Office Chairs And Gaming Chairs?
Comparing gaming chairs vs office chairs begins with a high-level overview of features – because who doesn't love a good table?
| Feature | Office Chairs | Gaming Chairs |
| --- | --- | --- |
| Purpose | Productivity | Comfort |
| Feeling | Supportive | Cossetting |
| Seat Design | Contoured | Racing Bucket |
| Seat Edges | Wingless | Winged |
| Front Edge | Waterfall / Flat | Raised |
| Construction | Mesh / Fabric | Faux Leather |
| Backrest | Mid-Back / Full | Full |
| Headrest | Adjustable / None | Fixed |
| Comfort | Moderate | High |
| Frame | Minimalist | Bulky |
| Cushioning | Taut | Soft |
| Design | Boring / Stylish | In Your Face |
| Colours | Subdued | Loud |
| Adjustability | Precise | Fast |
| Recline | Up To 135 Degrees | Up To 180 Degrees |
While gaming seats were initially designed for people who play video games, they've become quite popular among professionals who work from home.
Gaming chairs are quite distinctive, as they prioritise comfort and a racing car aesthetic, achieved through high recline ranges, softer cushioning and distinctive bucket seat design.
Office chair designs prioritise adjustability and a minimalist aesthetic.
Office Chairs vs Gaming Chairs: Which Is Best?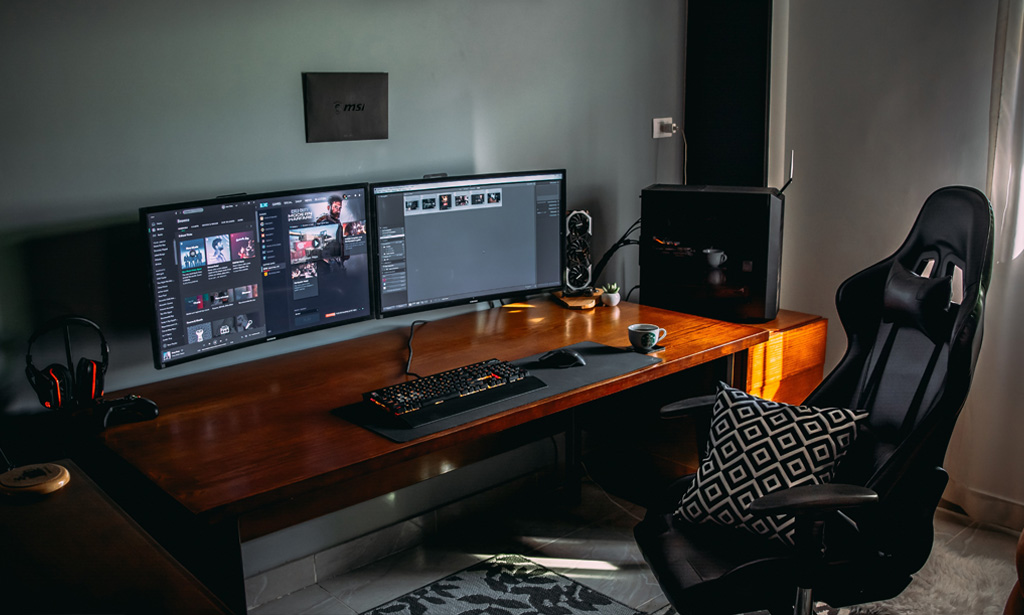 There's a lot of overlap between the features of office chairs and gaming chairs. Let's unpack the most important features in detail and pick the winner in each category.
(Related: Are Gaming Chairs Bad For Your Back?)
A. Ergonomic Features.
Ergonomics is the science of ensuring that your body's biomechanics are harmonious with your environment.
It's a complex topic, but in the context of choosing the perfect chair, the most important factors are:
(Related: How Much Should You Pay For An Office Chair?)
1. Adjustable Lumbar Support And Adjustable Armrests.
Instrumental for keeping your shoulders relaxed and your spine in a neutral position by letting you fine-tune the support your back and arms receive, these features are a must-have.
Thankfully, most gaming and office chairs on the Australian market offer some level of both.
Expert Tip.
Look for models 3D and 4D armrests plus height and tension adjustable lumbar support.
2. Adjustable Seat Depth With Waterfall Edge.
Racing-style gaming chairs fail miserably here, as they have fixed seat bases with raised lips.
Flat or waterfall seats that you typically see on office chairs encourage a healthier seating position as it allows you to dial in the correct amount of under-thigh support.
This prevents your feet from falling asleep due to lack of circulation.
3. Posture Control.
The debate of office chair vs gaming chair ergonomics gets more complex when you take the realities of people's postures.
Theoretically, the deep recline functionality of most gaming chairs enables users to kick back and relax.
In reality, it often encourages users' postures to degrade into an ugly, hunched slide that can lead to back issues (which office chairs are best for bad backs?)
Most people don't have the discipline, willpower or muscle strength to maintain good posture habits – especially when the chair doesn't encourage them.
WINNER: Office Chair.
While budget gaming chairs offer comprehensive adjustment controls, budget office chairs are usually limited to basic height and recline functions only. (I don't recommend buying these). Fully-featured ergonomic office chairs start at about $500, and this is where the situation reverses.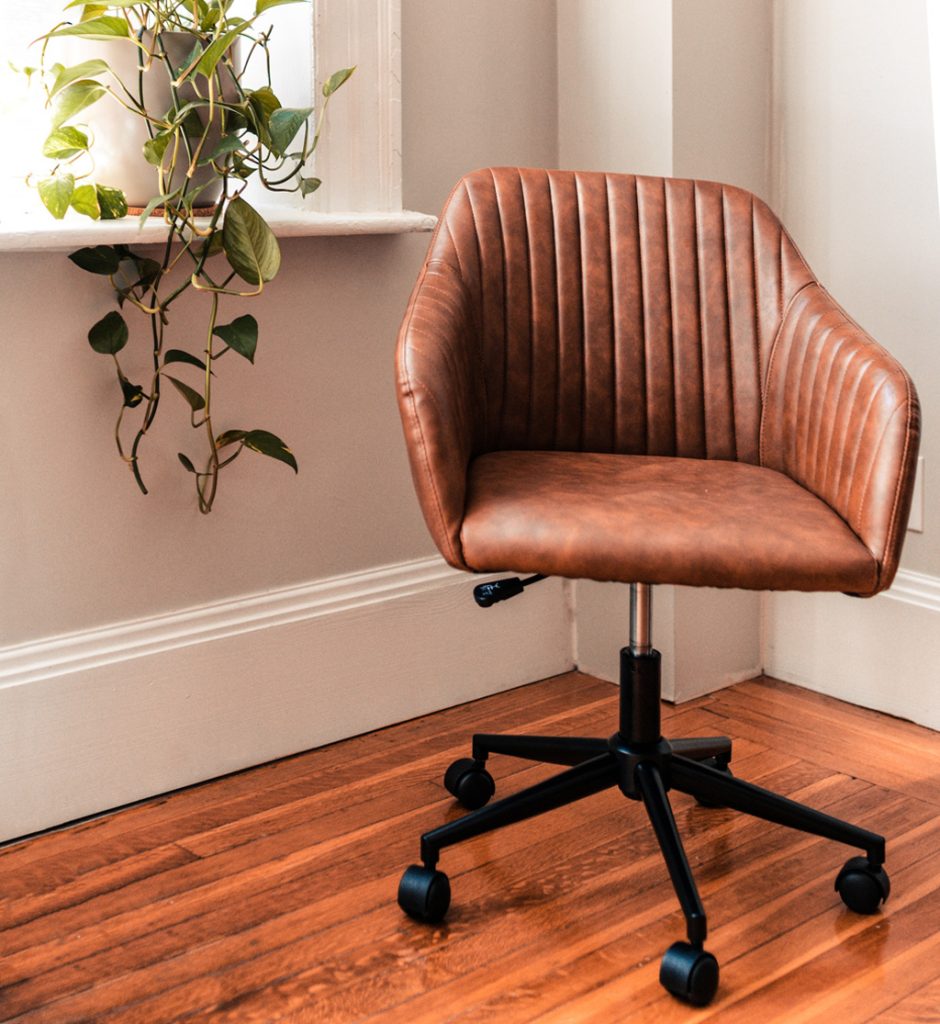 Shown above: never buy a chair like this as your office chair. It's not designed for prolonged sitting.
B. Comfort Levels.
You tend to sit in gaming chairs while you tend to sit on office chairs. The following factors combine to determine your comfort levels.
1. Padding.
Gaming chairs are designed for extended periods of use, which is why they often employ thicker cushioning, winged backrests and spongy padding materials that people find comfortable.
Office chairs, meanwhile, keep you feeling focused, supported and alert.
Sending you to sleep with excessive cushioning would be counter-productive, so they aim to keep you comfortable but not cosseted.
2. Breathability.
Because office chairs tend to be built from breathable materials like mesh and/or fabric, I find them much more effective at preventing sweaty backsides.
Expert Tip.
I hate the feeling of being too hot in my chair, which is why I always use all-mesh office chairs in my home office. Leather office chairs typically feel hotter, but you can counter that by choosing one made from top-tier leather (not synthetic leatherette).
3. Recline Function.
Last but not least, you must consider the recline mechanism.
Gaming chairs typically feature knee tilt mechanisms.
Pivoting on a joint just behind your knees, they give you a distinct recline feeling that's very similar to kicking back in an armchair.
It's a deep sinking feeling that's comfortable for extended periods of lounging, but isn't ideal for rocking back and forth, as you would during a staff meeting.
Office chairs, meanwhile, offer horrendous centre-tilt mechanisms on budget models (avoid!) and synchro-tilt or weight-sensitive mechanisms on high-end models. These offer remarkably pleasant and useable rocking motion.
WINNER: Office Chair.
Cheap office chairs tend to be horrendously uncomfortable, while cheap gaming chairs are surprisingly cushy. The situation levels out once you spend more than $600 and reverses in favour of office chairs when you spend above $1,000.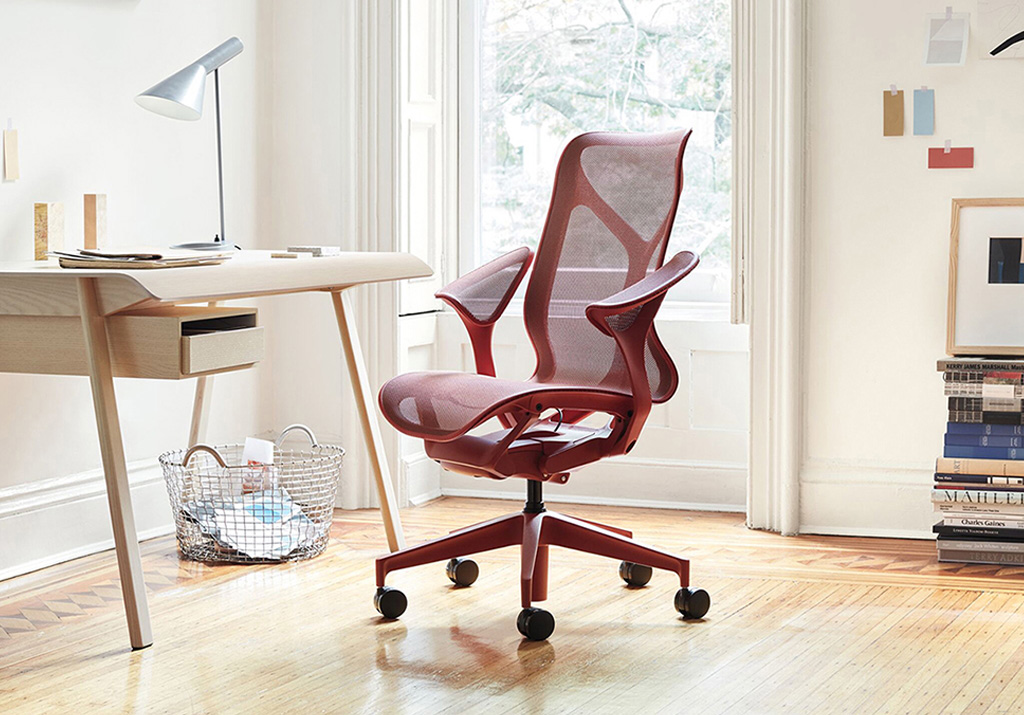 Shown above: the Herman Miller Cosm is one of the prettiest office chairs on the market.
Aesthetics.
One of the biggest questions in the gaming chair vs office chair debate is, "which will look best in my home?"
A typical gaming chair will not be aesthetically pleasing to most people (especially if it's one of those bright racing-style gaming chair designs).
A tip directly from me: if you're male and older than 25, stay away from gaming chairs.
Everything you own and wear sends social signals. While the chair will increase your street cred among Twitchers, streamers and other gamers, employers, colleagues and female objects of your affection will think otherwise.
WINNER: Office Chair.
Most office chairs are either eye-catchingly stylish or painfully boring, but it is rare to find one that brazenly screams for attention. Gaming chairs, meanwhile, are the opposite – subtlety is rare, while loud colours are the norm. I picked office chair as a winner because I don't believe that anyone over 25 years of age should be seen in a gaming chair.
Price.
Entry-level office chairs are much cheaper, with some cheap models costing less than $100. In contrast, the cheapest gaming chairs start at about $200-$300.
That said, most gaming chairs top out at around $1,000, while office chairs are almost infinitely expensive, with some models costing upwards of $3,000.
WINNER: Office Chair.
Office chairs offer a lower entry price point than gaming chairs, but that point is moot because I don't recommend buying a chair that costs less than $400. (It will cost you more long-term in back issues, discomfort and lost productivity). In the $400-600 range, you can get more bang for your buck with a gaming chair. Beyond $600, things get more subjective because you begin to pay for brand image and aesthetics.
Can You Use A Gaming Chair For Work?
Yes. But then again, you sit on just about anything. The question you should ask instead is – how much gaming vs work do you intend to do in your gaming chair?
Standard office chairs are usually not comfortable enough to sit in for more than three hours at a time. They encourage you to stand up, take a break and stretch.
Before viewing this as a flaw, consider that movement is important for long-term longevity.
Staying immobile for hours at a time is sub-optimal, so I recommend that you invest in a mid to high-end ergonomic office chair instead.
(Related: Ergonomic Chairs vs Gaming Chairs: Which Is Best?)
Can You Use An Office Chair For Gaming?
Yes, and you probably should. Whatever you do – don't buy a budget office chair and spend 3+ hours per day in it playing games.
Office Chair vs Gaming Chair: My Verdict.
There's a lot to consider when choosing an office chair vs. a gaming chair.
This debate has raged on for years and probably won't calm down soon.
I aimed to give you a level-headed perspective, oriented to helping you maintain a high-performance lifestyle.
Steven
Recommended Reading: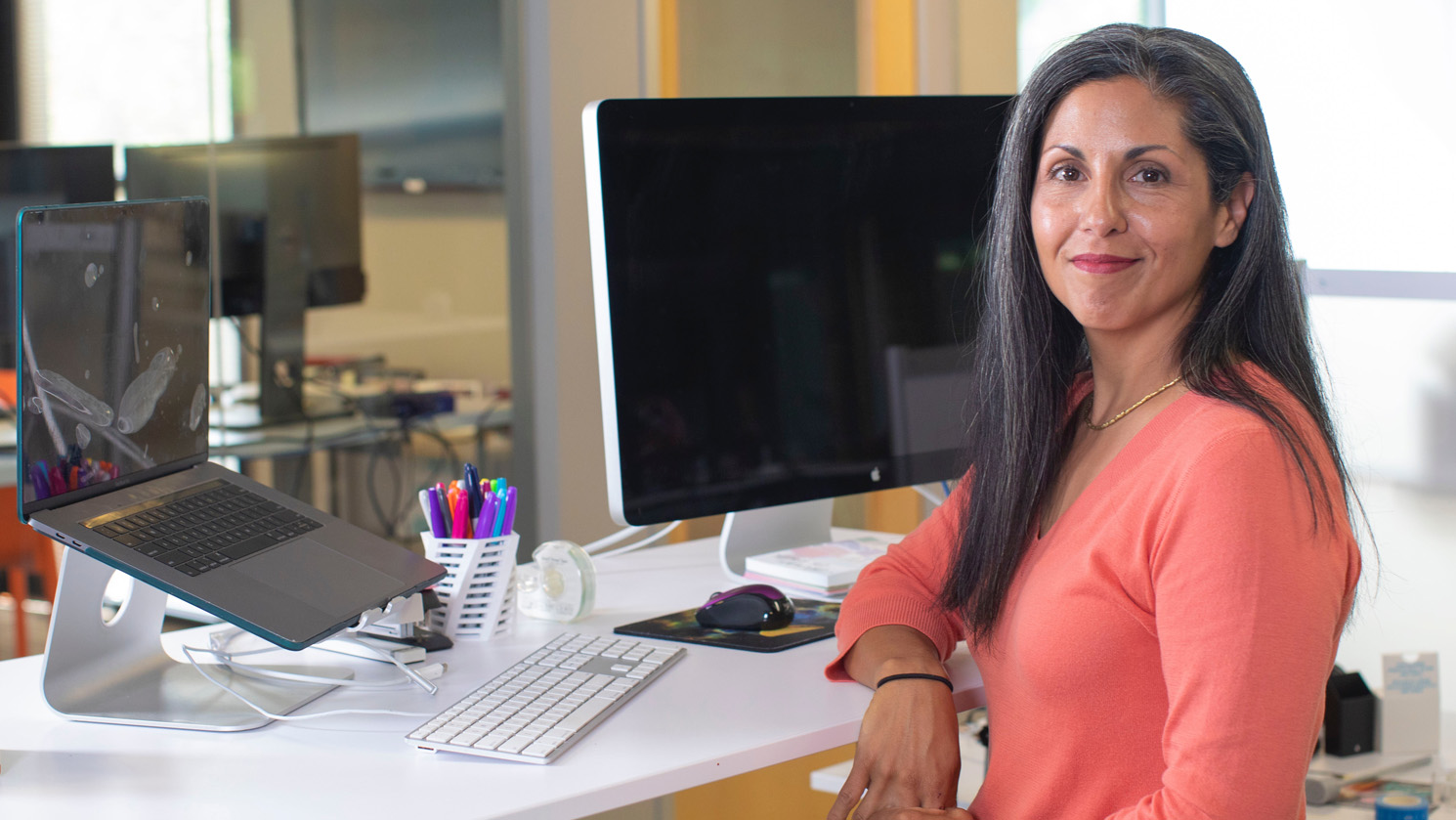 Is Standing Better Than Sitting At Work?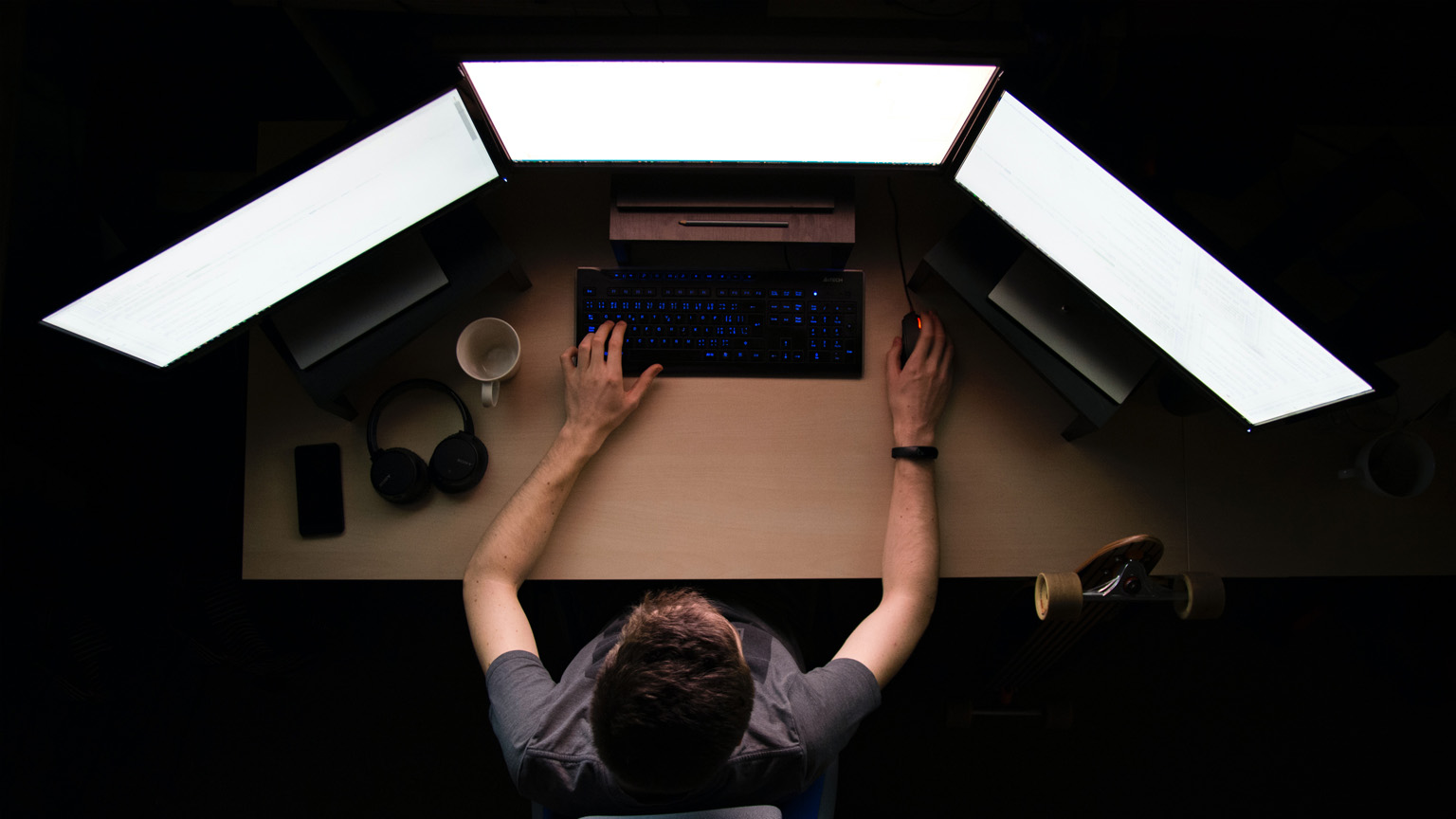 Complete Guide To Work From Home Ergonomics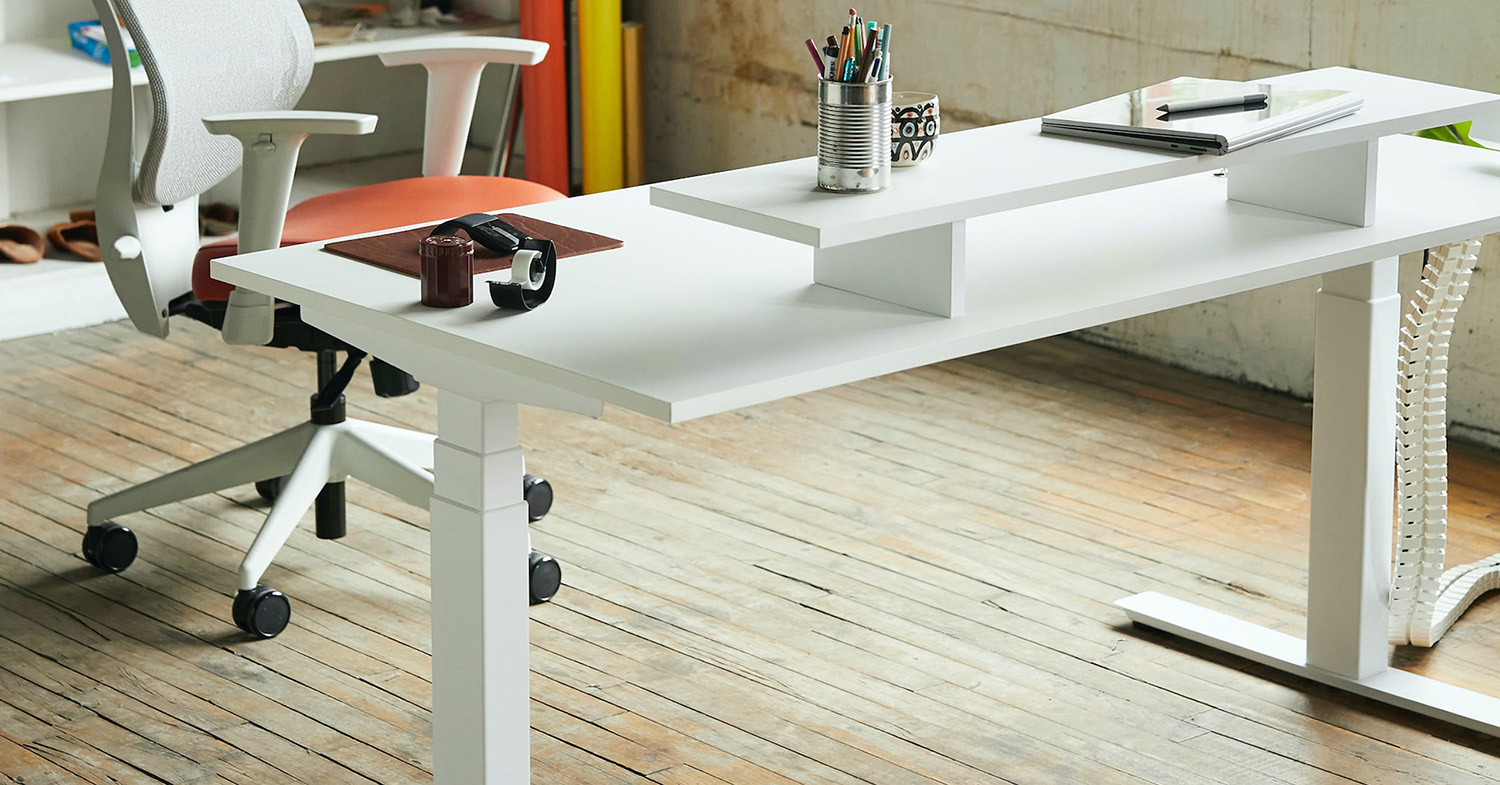 11 Surprising Benefits Of Standing Desks