Refer A Friend And We'll Give You Both A $125 David Jones Gift Card When They Become A Client.
Become an Arielle Executive Ambassador today. The more friends and colleagues you refer, the more you earn. For every 5th referral you make, we'll double your reward to $250.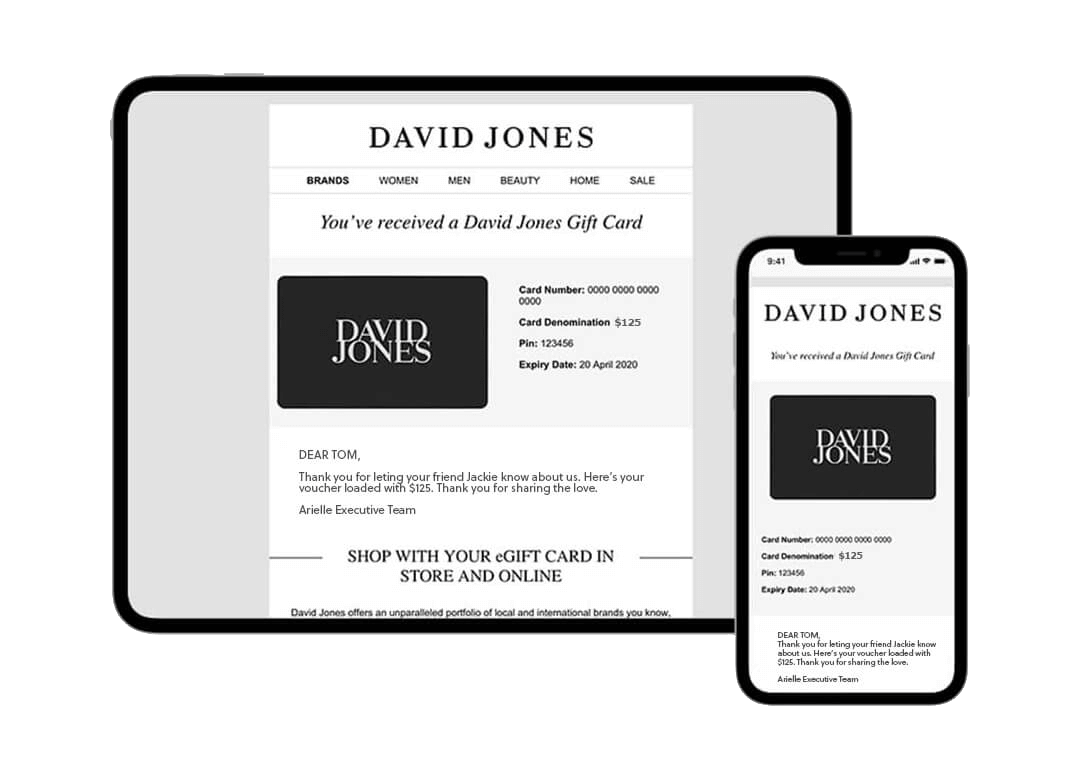 Earn rewards by recommending Arielle Executive and helping close people in your network reach their career goals.
How It Works.
Every time a friend or colleague who you refer becomes an Arielle Executive client, you'll receive a David Jones Gift Card from us. The card will be loaded with $125 each time; this amount will double to $250 for every 5th successful referral. Every client referred by you will receive a $125 David Jones Gift Card.
How To Become An Ambassador?
First, there's the old-school way - tell your friend or colleague about Arielle Executive and ask them to mention your name if they decide to become a client. Alternatively, you can facilitate the introduction by copying arielle@arielle.com.au on to the following email to your friend. This is a convenient way to ensure that you receive your reward:
What Are The Terms & Conditions?
1) Applies to purchase of Arielle Executive Branding Packages only. Does not include purchase of standalone coaching services, such as Advanced Interview Coaching or Strategic Career Coaching. 2) Offer starts on 12/12/18 and cannot be claimed retrospectively, for referrals you've made prior to this date. 3) Your name must be mentioned by the person you refer before they finalise their purchase, or within a 1-week grace period. 4) The $250 Double David Jones Gift Card Bonus is given to you only; the person you refer receives a single $125 David Jones Gift Card every time.
Thousands Of Happy Clients.
We've consistently held a 5-star review rating on Google for the past 9 years. These are just a few of our success stories.








Learn More About Arielle Executive Services.
Become the candidate of choice, increase your visibility to top executive search firms, increase your salary potential and win the best job opportunities.